Common Nails
Common nails refer to iron nails made of drawing wires for general and multi-purpose uses. Mainly roofing, packing, furniture countersunk, ship building and construction uses.

Common Nails are Low Carbon and Media Carbon Wire Nails processed from the best steel mill in China.
The Wire progressing steps generally include Drawing, Cutting, Shaping, Polishing(Galvanizing), Selecting and Packing.

Material standard:
Low carbon steel wire, Media carbon steel wire, meeting standard of Q195,Q215,Q235

According to specific uses, common iron nails can be divided into common round carpentry nails, concrete nails, furniture nails (special nails for modern furnitures including sofa and antique furnitures), boat nails and roofing nails.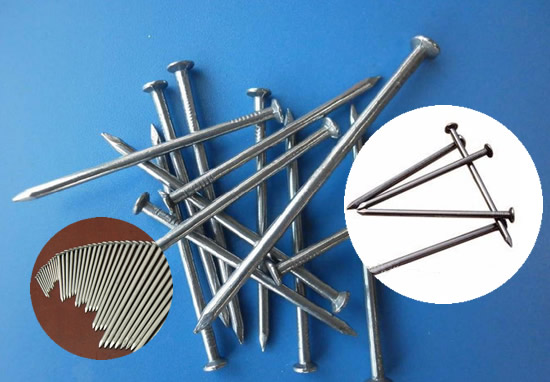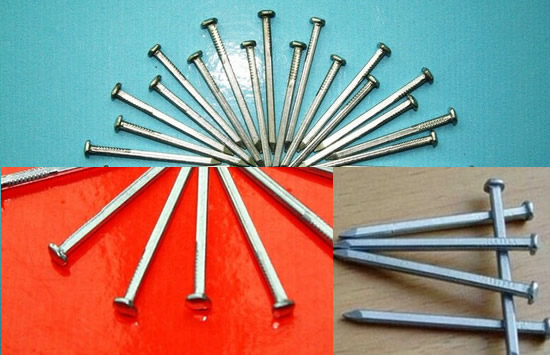 COMMON ROUND CARPENTRY NAILS with smooth Shanks:


| | |
| --- | --- |
| Type | common smooth shank nail |
| Material | steel |
| Length | 0.9mm---200mm |
| Shank Diameter | 0.8mm---6.0mm |
| Head Diameter | 1.6mm---12mm |
Bright Square Head and Square Shank BOAT NAILS:
Mainly for wooden cases and wooden boat building construction
Specification:
Diameter: BWG4--BWG20
Length: 1/2"-- 8"
Boat nails:
Material:Q195 or 235
Sauare Shank ,Diamond Point, Square Head
Finishes: Bright, E.G.H D G
Shank diameter BWG4-BWG16.
Packing:
A). In carton or bag of 25kgs/20kgs/50lbs
B). In carton with 5kgsx 4boxes
Square Boat Nails Common Sizes:
1x14BWG


2x12BWG
1x15BWG
2-1/2x10BWG
1x16BWG
3x8BWG
1-1/4x14BWG
3-1/2x7BWG
1-1/2x14BWG
4x6BWG
1-1/2x14BWG
5x5BWG
1-3/4x13BWG
6x4BWG
CONCRETE NAILS
With umbrella head, smooth body, twist body, mainly for building construction concrete wall.
Popular sizes:

Specifications: 8G, 9G, 10G, 11G, 12G, 13G
Length: 1"---6".
Shank Diameter: M1.2-M6.0 BWG6-16
Material : Q215 Carbon steel
Point: diamond point
Surface treatment: Polished, electro galvanized, hot-dip galvanized
Countersunk head or Flat head
Diamond Point or Needle point
Smooth Shank and Fluted shank
Surface Finishes: Electric Glvanized,Hot Dipped Galvanized, yellow, blue, black painted