Concrete Nails, Electro Galvanized Steel and Stainless Steel Concrete Nails
Concrete nails are specialty nails rather than common iron nails. It is harder, the shank is short and thick and it has excellent piecing and fixing strength. With these features, concrete nails make ideal nails and fasteners in construction, workshop and dailylife to attach wood, sheiving or any other type material to a concret or masonry surface .
Product Serial No.:
Model: 13#,16#,20#,25#,30#,35#,40#,50#,60#,70#,80#,90#,100#,130#

Standard Length:13mm-130mm
Shank Diameter:1.60mm-5.50mm
Material: Carbon Steel C40, C45, stainless steel
Surface Treatment: Bright, E.G, H D G, yellow paint, black, blue
Head: Flat Head
Shank: twisted or smooth
Point: Diamond Point.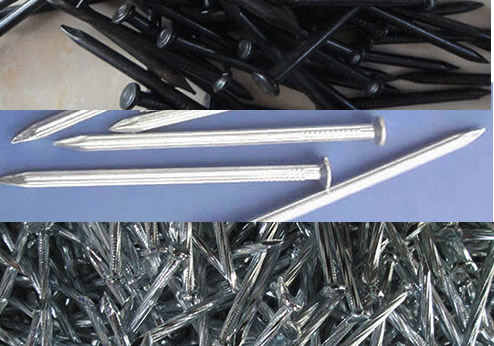 Concrete Nails: Carbon Steel Materials
Electro Galvanized
Blue Plated
The Length of Nails/inch
Specification
The Number of Per Pound
Nails Length
Rod Diameter
1
12BWG
355
20mm
2mm
9BWG
182
25mm
2mm
1-1/4
12BWG
244
25mm
2.5mm
9BWG
145
30mm
3mm
1-1/2
12BWG
244
40mm
3mm
9BWG
123
50mm
3mm
2
12BWG
184
60mm
3.4mm
9BWG
96
70mm
3.4mm
2-1/2
8BWG
64
80mm
3.4mm

Stainless Steel Concrete Nails:
Feature: flat head, diamond point
Length: 1"-5" (25-120mm)
Shank diameter: 2.5mm to 5.2 mm
Head diameter:3mm to10 mm
Stainless Concrete Nails Specifications:


| | |
| --- | --- |
| Length | 25mm-120mm |
| Head Diameter | 3mm-10mm |
| Shank Diameter | BWG19-BWG8(2.5mm-5.2mm) |
| Shank | Smooth Shank/ Spiral Shank |
| Point | Diamond Point/Blunter Point |
| Surface Treatment | Bright or color painted |